COVID Global Solutions
A collaborative effort led by Boston-area physicians, scientists, and industrial designers, COVID Global Solutions specializes in the development of personal protective equipment to meet the needs of communities impacted by the novel coronavirus pandemic.
Purchase the Dome Shield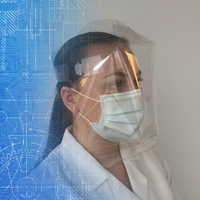 The Dome Shield
Developed in collaboration with Boston-area physicians, the Dome Shield is an affordable locally manufactured anti-fogging, full-coverage face shield intended for use by medical, food-service, and factory workers to provide general, lightweight facial protection.
Dome Shield Assembly Instructions
Clinically Validated, Light-Weight, Full-Coverage, Economical Design
Front View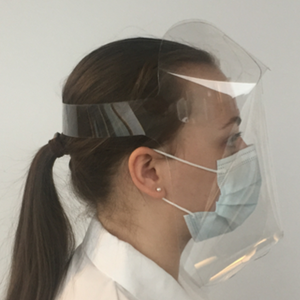 Side View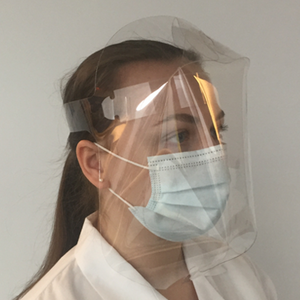 Oblique View
FDA Emergency Use Authorization:
FDA Emergency Use Authorization: The manufacture of this face shield design is a humanitarian response to the COVID-19 pandemic.
This product has been authorized by the FDA under an EUA for use by healthcare providers as personal protective equipment.
This product is authorized for the duration of the declaration under Section 564(b)(1) of the Act, 21 USC 360bbb-3(b)(1).
Not Intended For:
Surgical use, where direct sterile field contact is expected
Uses where significant amounts of exposure to hazardous fluid is expected
Situations where level 3 or 4 protection is required (moderate to high barrier protection)
Situations with a possibility of exposure to high heat, excessive humidity, or flammable gas
Materials of Constrution
Anti-fogging Food-grade 0.012" Poly-Ethylene Terephthalate (PET)
Produced in an FDA-approved manufacturing facility
Made in the USA
Next Day Shipping Available in the Boston Area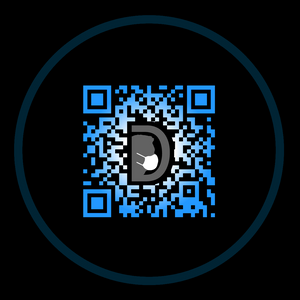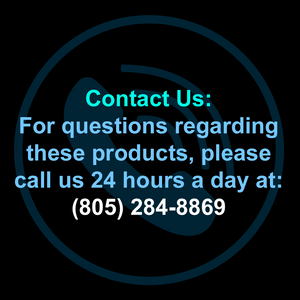 Learn about our other collaborative research and Development Efforts